Enquiry Form
Welcome to Crossans Clothing
At Crossans we have a wide range of Clothing to suit every occasion, whether it be Ready to Wear, "Made to Measure" or Formal Hire.
Our friendly and experienced team are available at any time to advise you and offer assistance.
Services include
Alteration Service
ECO Dry Cleaning
Formal Hire
Highland Wear
Larger Sizes
Extra Trousers with Suits
Gift Vouchers
Personal Shopping
Supporting St. Ann's Hospice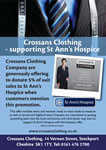 Crossans Clothing are generously offering to donate 5% of suit sales to St Ann's Hospice when customers mention this promotion.
This offer includes mens and womens ready to wear, made to measure as well as formal and highland wear. Crossans are committed to putting something back into the local community and what better way than to support St Ann's Hospice with this fantastic offer.
Click the poster to the left to enlarge the poster
Visiting Tailor - Call or book an appointment online
To book an appointment online, Click here or ring the store on 0161 476 2700